Galette des Rois, also known as King Cake, is a traditional flaky puff pastry treat filled with almond cream and covered in elaborate designs. Celebrated during Epiphany, this recipe is made completely from scratch and is the BEST type of pastry to enjoy.
Is there anything better than going to a bakery and biting into the flakiest, layered pastry you could find? This Galette des Rois is exactly that, but made with your own two hands!
It has layers upon layers of crunchy, crispy, flaky pastry and is filled with a soft, cakey almond cream or frangipane.
While it looks like an elaborate bake, it's actually quite simple! Best served warm, you won't be able to keep your hands off of this delicious treat.
A French King Cake has very few ingredients and is sure to be a show stopping bake to enjoy with all pastry lovers alike!
This specific recipe was developed using my Perfect Rough Puff Pastry Recipe. It is a very detailed, step-by-step guide to make the pastry. A full, real-time video of how to make the rough puff is also included.
If you like frangipane or almond filling, you can also try my Peach Frangipane Galette or Summer Fruit Tart.
Finally, a printable template for this design is also included, though you can make any design you'd like!
Jump to:
History of the Galette des Rois
The Galette des Rois, also called King Cake, originated in 14th century France and is celebrated in January to honor Ephiphany, a religious celebration for the arrival of the Three Kings to Jesus' birth.
There are a few types of King Cakes - the first is a flaky pastry like this recipe. There is also a yeasted pastry version, as well as shortbread version. Each are made in different parts of France, and you'll often find the yeast version in New Orleans with colors all over it.
The galette des rois is meant to be split and served based on the number of guests that will be enjoying it, plus an extra slice is always saved for a visitor or passer-by.
A fève is traditionally added somewhere in the almond filling, which is a small porcelain or ceramic figurine that often becomes a collectable. Whomever is served the slice with the fève becomes the "King for the day." If you don't have a fève, a whole almond can be used, instead.
When purchasing from the patisserie, most come decorated with a paper crown, which is what the lucky King gets to wear.
Read more about the history of the Galette des Rois.
Ingredient Notes
Rough puff pastry or store bough puff pastry. To make your own, you only need butter and flour. If using store bought, look for an all-butter version for best flavor.
Unsalted butter.
Powdered sugar.
Almond flour. Finely ground is best.
All-purpose flour.
Eggs. One for the filling, and one yolk for the egg wash.
Vanilla and almond extracts.
Necessary Tools
Rolling pin.
Stand or hand mixer. This can also be made with a food processor or by hand with a bit of elbow grease.
Bowl or pastry ring. About 8-9 inches in diameter.
Sharp paring knife.
Pastry brush. A soft bristled brush is best (rather than a silicon brush).
Parchment paper & baking sheet.
Toothpick.
Best Flaky Pastry Tips
This pastry is all about the layers. Follow these tips for great success!
Once the edges are cut, take care not to touch them. Sealing the edges can prevent the pastry from rising and creating layers.
For the same reason as above, do not allow any egg wash to go over the sides of the pastry.
Fill and assemble the galette des rois on the baking sheet so a transfer is not necessary.
When scoring the design, take care not to pierce through the full layer of pastry or else the filling will bake out.
Allow the pastry to chill fully before baking for the best rise.
How to Make Galette des Rois
STEP 1: Roll out each sheet of the rough puff pastry to ⅛" thick, then use an 8-9" round object and and a sharp paring knife to cut out two circles. Transfer one circle to a parchment lined baking sheet - this will be the bottom piece.
With the second circle (top piece), gently roll it twice, rotate 90 degrees and roll twice again. This makes it slightly bigger and aids in fully covering the almond cream.
STEP 2: Cream together the butter and powdered sugar, then add the almond flour, flour, salt, and extracts. Transfer to a piping bag or ziptop bag for easiest assembly.
Note: this can also be made in a food processor, or even by hand with a wooden spoon and spatula.
Pipe the almond filling in a spiral onto the bottom piece of pastry, leaving a one-inch border. Add remaining filling in a second swirl on top, but only going out about halfway. It should be mounded.
If using a fève, press it into the almond filling at this point!
Use a pastry brush (or your finger) to swipe water on the exposed pieces. Take care not to get it over the edges.
Assembling the Pastry
STEP 3: Carefully place the second piece of dough evenly on top of the almond cream. Gently pull any areas that need to expand, then use your hands to smooth downwards over the mound, and press it down to meet the edges. Seal tightly with your fingers, steering clear of pressing down the very outer edges.
Use the back of a butter knife to press indents into the sides of the pastry about 1" apart. This is solely for decoration, but is easy to do and looks great!
Brush the top with egg wash (don't get it over the edges!) and refrigerate for 10 minutes. Brush with another round of egg wash, and refrigerate for a final 10 minutes.
Hot tip: If you accidentally seal the edges at any point, use a sharp paring knife to re-cut the area if there is room to do so.
STEP 4: Using the tip of a sharp parking knife, score a design into the top of the pastry. You only need to press very lightly - enough so the tip just scratches the top layer. Piercing through to the filling will result in a broken pastry and the filling will cook out.
Use a toothpick and pierce through the whole way to the filling in about 6 different areas.
STEP 5: Bake the pastry for 30-40 minutes or until deeply golden brown. Allow the pastry to cool for 15-20 minutes, then transfer to a serving plate and slice with a serrated knife. Serve warm.
Design Template
You can use this printable template to recreate the design used in the photos. However, here is some additional Galette des Rois design inspiration to try.
Galette des Rois Variations
This pastry be seen with a few different and delicious flavor profiles! While a traditional almond cream or frangipane are most common, chocolate almond filling, apples, and pear are other widely seen varieties.
You can also make your own variation of this by creating smaller, individual sized galettes, if you'd like! A 4" circle is a great size.
Storing
Store the baked galette des rois at room temperature for three days. Wrap lightly in foil after the first day. Reheat the pastry in a 400℉/205℃ oven for 3-5 minutes to re-crisp, if desired.
Freezing
To freeze the king cake, this should be done prior to baking. Once the galette is assembled (and before adding egg wash or design) flash freeze the cake for 30 minutes.
Then, wrap it tightly in a few layers of plastic wrap and transfer to a large zip-top bag. Freeze for up to three months.
Thaw in the fridge overnight, then follow the instructions for the egg wash and design.
FAQs
How do you eat it?
This pastry is served in wedge slices and is best cut using a serrated knife. If choosing to follow tradition, it should be cut according to the number of guests enjoying the treat, plus leaving an extra slice for a passer-by.
What is the meaning of galette des rois?
It translates to Kings Cake, which is why that name will also be seen and used interchangeably. It's traditionally eaten in the month of January to celebrate Epiphany when The Three Kings traveled to visit baby Jesus.
What does it taste like?
HEAVEN! First, you break through the crunchy pastry into a moist, soft yet textured filling, followed by more crunch. It's not overly sweet, but tastes buttery and is packed with almond flavor.
Other recipes to try
Did you make this recipe? Tag me on Instagram or Facebook and leave a star rating ⭐️ below! For more ideas, follow me on Pinterest.
📖Recipe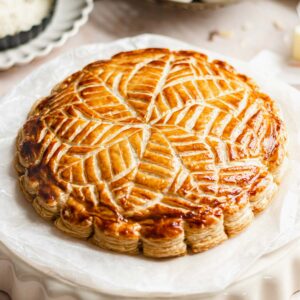 Galette des Rois (French King Cake)
Galette des Rois, also known as King Cake, is a traditional flaky puff pastry treat filled with almond cream and covered in elaborate designs. Celebrated during Epiphany, this recipe is made completely from scratch and is the BEST type of pastry to enjoy.
Equipment
Stand mixer or hand mixer

Rolling Pin

8-9" bowl or round object

Sharp paring knife

Pastry brush

Toothpick
U.S. Cups vs Metric
Use the metric toggle to convert the measurements
Ingredients
2

sheets

rough puff pastry or store bought puff pastry

6

tablespoons

unsalted butter

room temperature (85g)

¾

cup

powdered sugar

90g

¾

cup

finely ground almond flour

70g

1

tablespoon

all-purpose flour

¼

teaspoon

kosher salt

1

teaspoon

almond extract

1

teaspoon

vanilla paste or extract

1

large egg

room temperature

1

egg yolk

for egg wash
Instructions
If making your own pastry, follow my recipe to make two sheets of Rough Puff Pastry. If using store-bought puff pastry, follow package instructions to thaw.

Roll the rough puff pastry out until it's between ⅛" thick and cut out two 8" or 9" circles.

2 sheets rough puff pastry or store bought puff pastry

To do this, lightly four the rim of the appropriate sized cake pan or bowl and place on the dough. You can also cut out a circle from paper to use as a stencil. Using a sharp paring knife, cut out the pastry circle by running it the whole way around the edge of the bowl. Repeat the process again with the remaining dough so there are two circles.

Take one circle and gently roll again two times one way, and two times the other way to make this circle slightly larger. This will be the top circle, and helps to make sure the pastry edges meet once placed on top of the filling.

Place both circles on a sheet pan lined with parchment paper and set in the refrigerator while you make the almond filling.

In a stand mixer fitted with the paddle attachment (or with a hand mixer), beat the butter and powdered sugar together for about one minute. Add the almond flour, all purpose flour, and salt and mix on low until combined. Add the almond extract, vanilla, and one egg and mix on medium low until the egg is fully incorporated. You can also do this by hand with a wooden spoon, just try to combine it as thoroughly as possible (use a little elbow grease!).

6 tablespoons unsalted butter,

¾ cup powdered sugar,

¾ cup finely ground almond flour,

1 tablespoon all-purpose flour,

¼ teaspoon kosher salt,

1 teaspoon almond extract,

1 teaspoon vanilla paste or extract,

1 large egg

Remove the dough from the refrigerator and pipe or spread the almond filling on the smaller circle (the bottom), keeping a 1" border. If piping, pipe a full coil inside the border, then a smaller diameter coil on top. If spreading, keep the almond filling mounded in the middle.

Brush a small amount of water around the filling the whole way to the edges (but not over). Add the top piece and firmly press down along the border to seal the pieces of rough puff together. Press the whole way in to the filling, then gently flatten out the top by smoothing your hand overtop.

Using the back of a butter knife (or the mouth of a spoon) with the tip touching the pan, gently press the knife against the edge towards the center to create a small indent. Continue this the whole way around the dough, 1" apart.

Separate one egg and whisk the yolk together with a small splash of water. Brush the yolk all over the top and border of the pastry, careful not to get any of the egg wash along the sides (or else the flaky edges will be lost).

Place in the refrigerator for 10 minutes. Add another round of egg wash, and rest in the refrigerator for another 10 minutes.

While the dough is chilling for the second time, preheat the oven to 425°F/218℃.

Remove the dough and lightly score a design into the top piece of dough, taking care not to pierce through the dough. Using the knife or a toothpick, poke about 5-6 holes through the top of the dough to allow steam to escape.

Reduce the oven to 400℉/205℃, then bake for 30-40 minutes until the pastry has risen and become a deep golden brown.

Slice and serve warm or at room temperature.
Notes
Follow my recipe for homemade rough puff pastry to make your own flaky pastry.
Store at room temperature for 3 days.
A serrated knife is best to serve this pastry.
If using store bought pastry, look for a puff pastry with butter. Trader Joes and Whole Foods sells this. It does make a difference in flavor!
Nutrition
Calories:
532
kcal
Carbohydrates:
41
g
Protein:
8
g
Fat:
38
g
Saturated Fat:
12
g
Polyunsaturated Fat:
4
g
Monounsaturated Fat:
16
g
Trans Fat:
1
g
Cholesterol:
67
mg
Sodium:
235
mg
Potassium:
51
mg
Fiber:
2
g
Sugar:
12
g
Vitamin A:
325
IU
Calcium:
37
mg
Iron:
2
mg