This chocolate marble cheesecake is made with a combination of vanilla and chocolate batter - with a bit of sour cream for extra tanginess - and swirled together to create a marble effect.
Nestled into a crust made of Oreo cookies, this chocolate swirl cheesecake is super creamy, dense, and has the best of both worlds. It's quite an impressive dessert that is sure to please a crowd.
Why You'll Love This Recipe
This is a total showstopper recipe, that doesn't require too much effort (although a bit of time). This chocolate marble cheesecake would be perfect for birthdays, and even better for Valentine's Day!
Texture: This is a dense, yet creamy baked New York-style cheesecake, most akin to a traditional cheesecake. It's got that crunchy chocolate crumb crust that contrasts perfectly with the filling.
Flavor: This cheesecake has the best of both worlds - chocolate cheesecake and vanilla cheesecake! A classic vanilla flavor mixed with a rich chocolate flavored batter, and neither one is too overpowering. I chose to go with a chocolate crust to bring home the dark chocolate flavor, which I think compliments the bake best.
No traditional water bath: if you're a big lover of cheesecake making, you probably know how much of a pain it is to wrap your springform pan and pray to the Gods that the water bath doesn't leak through to your precious baked good!
Luckily, I've found a method that eliminates that step, which is to put a pan of boiling water in the bottom of the oven. This helps to create enough steam and moisture to replicate a true water bath! Ta da!
This recipe uses the basic cheesecake recipe from my Caramel Pecan Cheesecake, which is a perfect vanilla cheesecake base. It's also used in my Mini Strawberry Cheesecake Cups and Mini Speculoos Cheesecake.
Jump to:
Ingredients
The ingredients for the chocolate marble cheesecake are quite simple, most of which you likely already have as a pantry staple.
Oreos. Almost a full pack is used for the crust, both the creme filling and the cookie. This way, you don't have to do any tedious separating.
Butter. Unsalted, melted butter is used to bind the crust.
Cream cheese. Full-fat, Philadelphia brand cream cheese bricks will produce the most superior cheesecake in both flavor and texture. Be sure the cream cheese is very soft so no clumps form. I like to leave mine out on the counter for at least 6 hours prior to making the cheesecake.
Granulated sugar.
Cornstarch. This helps to set and add structure to the cheesecake and should not be skipped.
Eggs. At a full room temperature, and whisked.
Sour Cream. Full fat, and at a full room temperature.
Chocolate (melted). I prefer semi-sweet (60-70% cacao) or dark chocolate. Milk chocolate doesn't give you that chocolate flavor that you're really looking for. Be sure to use a chocolate bar and chop it, rather than using chocolate chips. Chocolate chips contain anti-melting agents, and we want to make sure we have a super smooth, melted chocolate to incorporate into the batter. I do not suggest using cocoa powder in the chocolate batter.
See recipe card for quantities.
Variations
Here's a few ways you can mix up the chocolate marble cheesecake to make it your own.
Crust - use chocolate graham crackers, vanilla wafers, or standard graham crackers.
Chocolate - if you want to go double chocolate, add melted white chocolate to the vanilla batter (4oz).
Toppings - while I wouldn't suggest adding anything over top of the cheesecake (so you don't hide the gorgeous swirled top), you can top slices with raspberry sauce, extra melted chocolate, chocolate fudge sauce, or caramel sauce.
How to Make This Recipe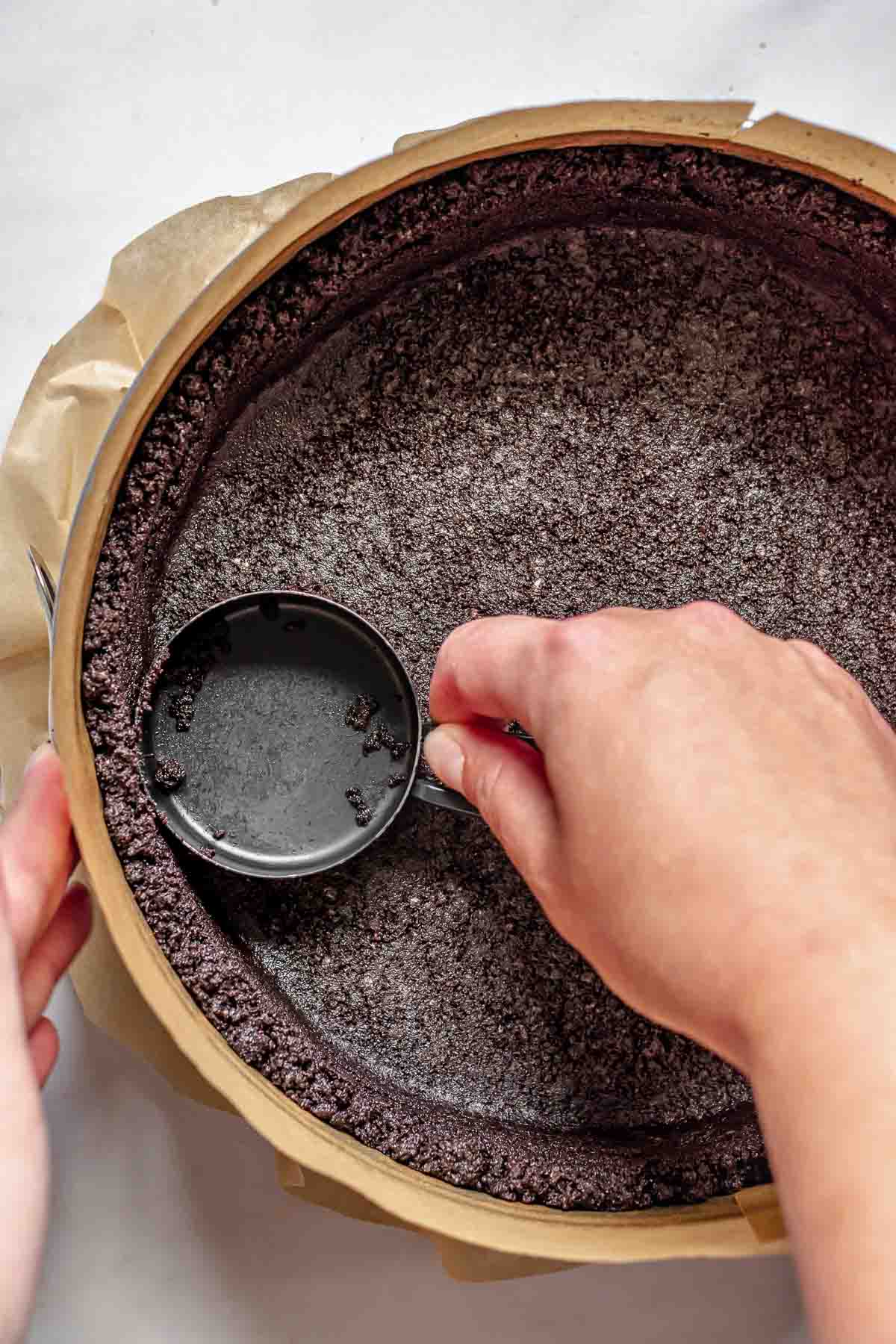 One: Pulverize the Oreos in a food processor to a fine crumb, then mix with the butter and salt. Press the crumbs halfway up the sides of the pan, then bake to set and cool.
Two: Mix the cream cheese to break it down, then add the sugar and cornstarch and mix again.
Hot tip! Be patient when mixing the cheesecake batter. Everything should be done on the lowest speed for the smoothest batter. Beating too much air into the cheesecake can cause it to crack. Low and slow will produce the best results.
Three: Whisk together the eggs, then add them into the cream cheese mixture in four batches to slowly incorporate.
Four: Fold in the sour cream by hand until no streaks remain.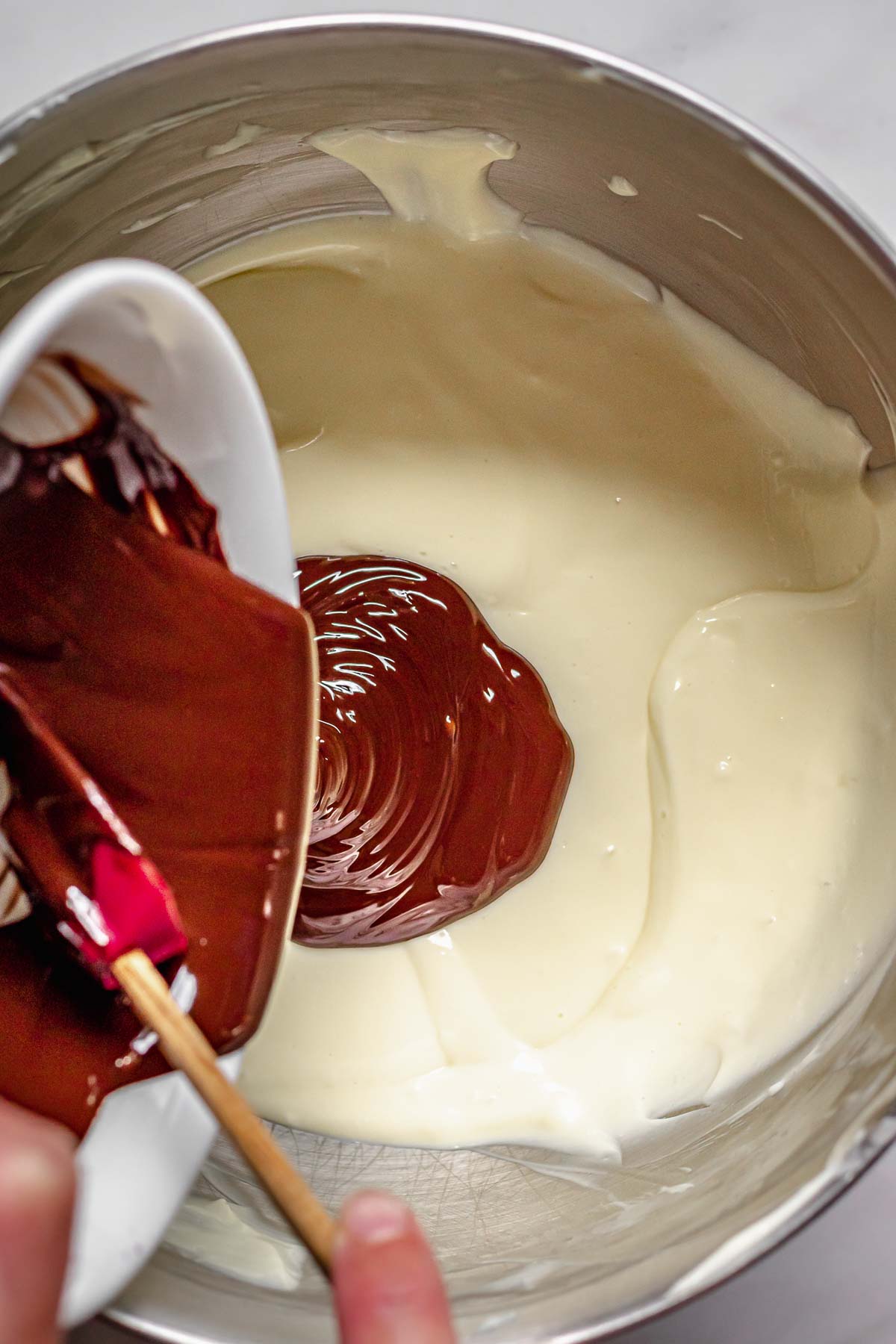 Five: Separate the cheesecake batter into two separate bowls, then add melted chocolate into half of the batter.
Six: Use a rubber spatula to fold the chocolate into the batter until no vanilla streaks remain.
Seven: Add the vanilla mixture and chocolate mixture to the crust in scoops, trying to alternate mixtures for best distribution. Gently tap and wiggle the mixture to settle it into the crust.
Eight: Use a table knife to swirl the batter together, getting down the whole way to the crust (without piercing through it). Then bake, adding a roasting pan of hot water to the bottom of the oven to act as the water bath.
Bake the cheesecake, then turn the heat off and crack the oven door for one hour before transferring to the fridge. Do not cover the cheesecake in plastic wrap, simply add it to the fridge completely uncovered to chill for eight hours.
Expert Tips
Plan ahead for this recipe. I like to take my ingredients out to come to temperature (cream cheese, eggs, sour cream) in the morning, bake the cheesecake right after dinner (since the oven will be occupied for about 3 hours), then refrigerate it overnight to set.
Line both the bottom and sides of the springform pan with parchment paper. Watch how to prepare your pan for a crumb crust.
Use room temperature ingredients! I cannot stress how important this is to get a smooth cheesecake batter.
Mix the batter on low speed only. Fight the urge to increase the speed!
Use an oven thermometer to ensure the correct oven temperature. Baking the cheesecake at too high of a temperature can cause it to crack.
Add the pan to the bottom of the oven, then add boiling water to the pan rather than trying to transfer a pan of hot water to the oven.
Recipe FAQs
Which cream cheese is best for cheesecake?
Philadelphia brand, full-fat brick cream cheese is hands down the most superior type of cream cheese for cheesecakes. It's thick, creamy, and fluffy. Some other brands of cream cheese can be very dense and have more of a sour cream flavor, which produces stogy baked goods.
Is a water bath required for cheesecake?
Technically no, but you should really use one. The moisture created keeps the cheesecake super moist and creamy, and also helps to produce an even bake. Cheesecakes baked without a water bath are also more prone to cracking.
Why did my cheesecake crack?
This can be for a few reasons: too much air was whipped into the batter, the oven temperature was too high, the oven door was slammed at some point, or the cheesecake was removed from the oven right away, and cooled in a drafty area.
Storage
Cover the cheesecake with plastic wrap in the fridge for one week. The cheesecake can be eaten straight from the fridge.
To freeze the cheesecake, wrap the cheesecake or slices tightly in plastic wrap, aluminum foil, and then place it into a zip-top bag. Freeze the cheesecake for three months. To thaw, unwrap the cheesecake and thaw uncovered in the fridge to allow moisture to release. Re-cover with plastic wrap to store.
More Cheesecake Recipes You'll Love
Did you make this recipe? Share it with us! Tag @thecozyplum on Instagram & Facebook and leave a star rating ⭐️ below!
📖Recipe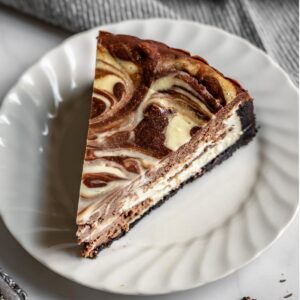 Chocolate Marble Cheesecake
This chocolate marble cheesecake with a chocolate crumb crust is made with a combination of vanilla and chocolate batter and swirled together to create a marble effect. 
Equipment
Food processor or blender

9-inch springform pan

Stand mixer with paddle attachment, or handheld mixer

Rubber spatula
U.S. Cups vs Metric
Use the metric toggle to convert the measurements
Ingredients
Oreo Crust
3

cups

oreo crumbs

½

cup

unsalted butter

melted

¼

teaspoon

kosher salt
Cheesecake Layer
32

ounces

full-fat cream cheese

softened

1⅓

cups

granulated sugar

3

tablespoons

cornstarch

4

large eggs

room temperature

2

teaspoons

vanilla paste or extract

1

cup

full-fat sour cream

room temperature

4

ounces

semi-sweet chocolate bar (60-70% cacao)

melted and slightly cooled
Instructions
Oreo Crust
Preheat the oven to 350℉/180℃ and line a 9" springform pan with parchment paper. Gently grease the pan, then line the bottom and sides.

Pulverize the Oreos (including the filling) until a very fine crumb forms, then combine with the melted butter and salt and combine with a fork until fully moistened.

3 cups oreo crumbs,

½ cup unsalted butter,

¼ teaspoon kosher salt

Press the mixture into the springform pan, going at least halfway up the sides. A ⅓ cup dry measuring cup is a great tool for this. Be sure to compact it tightly into the bottom, corners, and sides.

Bake the crust for 10 minutes, then use the ⅓ cup measuring cup to re-compact the crust as it will fall slightly during baking. Cool while you make the cheesecake layer.

Reduce the oven temperature to 300℉/150℃.
Cheesecake Layer
Add the cream cheese to the bowl of a stand mixer fitted with the paddle attachment and mix on low speed until broken down. Scrape down the sides.

32 ounces full-fat cream cheese

Mix together the sugar and cornstarch in a bowl, then add it to the cream cheese and mix on low until incorporated. Scrape down the sides again.

1⅓ cups granulated sugar,

3 tablespoons cornstarch

Whisk together the eggs and vanilla, then drizzle it into the cream cheese mixture (with the mixer running on low speed) in four batches until fully incorporated.

4 large eggs,

2 teaspoons vanilla paste or extract

Scrape down the sides once more, then add the sour cream and mix on low speed until combined.

1 cup full-fat sour cream

Add half of the cheesecake batter to another bowl and set it aside.

Chop the chocolate and add it to a heatproof bowl. Microwave the chocolate in thirty second bursts, stirring in between each round, until fully melted. Allow it to cool for about 5 minutes.

4 ounces semi-sweet chocolate bar (60-70% cacao)

Add the melted chocolate to one bowl of batter and use a rubber spatula to fold it in until the chocolate is fully incorporated into a smooth, chocolate batter.
Cheesecake Assembly
Use a large cookie or ice cream scoop (or large spoon) and alternate adding the chocolate and vanilla batters into the crust until they are completely used up.

Gently jiggle and tap the pan to settle the batter, then use a butter knife to make swirls throughout the batter. Be sure to get down to the crust, without breaking through the crust.
Baking
Add a 9x13" pan to the bottom oven rack and fill it with boiling water.

Carefully place the marbled cheesecake onto the center rack, then bake for 1 hour 45 minutes.

Turn off the oven, crack open the oven door, and allow it to slowly cool for one hour.

Transfer the baked cheesecake to the refrigerator (uncovered) and chill for at least 8 hours to full set and cool.
Notes
Be sure the cream cheese, eggs, and sour cream are at true room temperature before beginning. I like to take mine out about 6 hours prior to making the cheesecake. Any cold ingredients will lead to a lumpy batter.
Crust: be sure to line the pan - watch how to do this. Then, work the crust up the sides first before working it into the corners and bottom. Use a ⅓ cup dry measuring cup to do this.
Be patient and work on the lowest speed during the cheesecake batter process. A high speed can whip too much air into the batter and cause the cheesecake to crack during the baking process.
Storage: cover the cheesecake and refrigerate for one week. Eat from cold.
Freezing: wrap the cheesecake or individual slices in plastic wrap, then aluminum foil, and place them into a zip-top bag. Freeze for three months. Unwrap completely and thaw uncovered in the fridge before enjoying.
Nutrition
Calories:
405
kcal
Carbohydrates:
48
g
Protein:
13
g
Fat:
19
g
Saturated Fat:
9
g
Polyunsaturated Fat:
2
g
Monounsaturated Fat:
6
g
Trans Fat:
0.3
g
Cholesterol:
72
mg
Sodium:
573
mg
Potassium:
303
mg
Fiber:
1
g
Sugar:
35
g
Vitamin A:
360
IU
Vitamin C:
0.1
mg
Calcium:
232
mg
Iron:
4
mg