These soft and chewy brown butter blondies are packed with chocolate and get sprinkled with flaky sea salt for the perfect sweet-salty combo. These quick one-bowl blonde brownies can be made in a quarter sheet pan for thinner blondies, or in an 8x8" pan for thicker blondies. Either way, they're ready to eat within an hour!
My favorite part about these chocolate chip blondies? You can make them your own with different types of add-ins. Want to use white chocolate instead of dark chocolate? Go for it! Add nuts or coconut? Love it.
This gooey version of chocolate chip blondies is like a chocolate chip cookie mixed with the texture of a brownie. Made with brown butter, brown sugar and granulated sugar, this combination gives the bars the BEST fudgy butterscotch flavor and texture. Also, they're dangerously easy to make, require no stand mixer, and are truly the best quick dessert!
Brown butter is such an easy way to add an extra depth of flavor to any baked good. Check out my Brown Butter Chocolate Chip Cookies, Pear Spice Cake with Brown Butter Frosting, and Brown Butter Peach Crisp for more "bb" love.
Jump to:
Why You'll Love This Recipe
Gooey. My favorite part of a chocolate chip cookie is the soft center, which is why I absolutely love these blondies with chocolate chips. Because the dough gets baked in a pan rather than individual cookies, there is more center which stays gooey and soft. But don't fret if you love the crispy edges! Just make sure to grab an edge or corner piece.
Salty and sweet. These brown butter blondie bars are sweet and caramely with melted chocolate, but the best part to me is the combination of those flavors with the flaky sea salt on top! The salt makes these flavors pop and adds a little crunch. It will definitely make you go back for another bite.

Versatile. You have options for what type of pan you bake these blondies in, which means you likely won't need any new pans or equipment. Bake these in a quarter sheet pan or 9x13-inch pan for thinner, crispier blondies. Make them in an 8x8-inch pan for a traditional, chewy gooey version. Or bake these in an 8 or 9-inch cast iron pan for a pazookie and top it while it's still warm with vanilla ice cream for a real treat.
Blondies vs Brownies
A blondie is typically made in bar form, and is akin to a non-chocolate version of a brownie. While this recipe doesn't use oil, many recipes do, which is a staple in a brownie recipe (cocoa powder is a drying ingredient, so the oil helps them hold moisture).
Blondies can typically be made in a variety of pan sizes (8x8, 9x13, 8x11), so refer to each recipe to see what is recommended. This version can be made in a quarter sheet pan or 8x8" pan. They should have crispy edge pieces and soft, chewy (almost gooey) insides. They can be made with just the batter, or with a variety of add-ins.
Ingredients
Unsalted butter. You're going to BROWN it! And I mean get it really brown (that means flavor). Note there's an extra 2 tablespoons included, which is because the water in butter evaporates during the browning process, so this will get us to the final amount needed.
Sugars. Light or dark brown and granulated sugar. The brown sugar is necessary to help with that butterscotch flavor.
Eggs. For leavening, structure, and that shiny top!
All-purpose flour. The main base and structure of the recipe. Be sure to measure your flour correctly - it's best to use a digital kitchen scale.
Baking powder. This is the sole leavening agent and cannot be left out.
Chocolate. I like to use a mixture of dark and milk chocolate. You can make these brown butter blondies with chocolate chips, chocolate chunks, or chopped chocolate. Chopped chocolate will result in the meltiest puddles. Feel free to use white chocolate, as well!
Flaky sea salt. Don't skip this! It's such a crucial flavor component to round out every bite.
See recipe card for full ingredients list and quantities.
Substitutions and Variations
There are a number of ways you can take this brown butter blondie recipe. Just be sure to stick to 12-14 ounces of total weight for whatever add-ins you use. Here are some ideas:
Light brown sugar will produce lighter colored blondies with slightly less caramelized flavor than dark brown sugar.
Use chopped chocolate, chocolate chips, white chocolate, peanut butter chips or butterscotch chips.
You can use regular butter in place of the brown butter, but the brown butter does add a great flavor to the bars that shouldn't be missed!
Mix in toasted pecans, walnuts, almonds or macadamia nuts to the dough for added flavor and crunch.
Add in dried fruit such as cranberries for a fruity twist.
Sprinkle in some crushed Oreos, Heath bar pieces, or salted caramel chunks.
Before you get started, check out my How to Brown Butter post if you're unfamiliar with this technique. We want to take the butter to a deep brown color and nutty flavor - this is what makes the recipe.
One: Brown the butter until the milk solids are quite dark and caramelized, but not burnt.
Two: Whisk together the brown butter with the sugars until combined.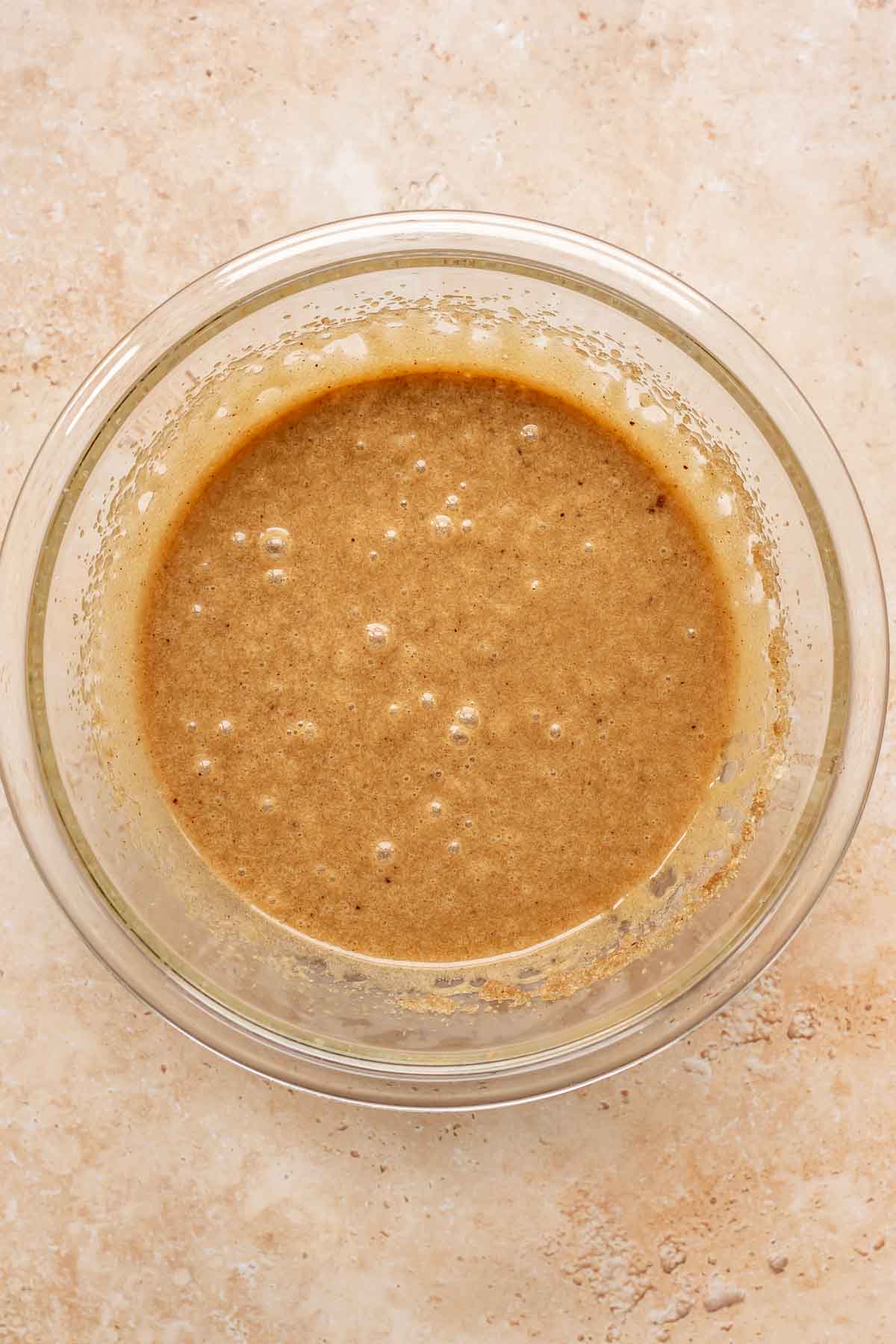 Three: Add the eggs and whisk again for one minute.
Four: Add the dry ingredients and fold it together with a rubber spatula until no streaks remain.
Hot tip! Want that shiny, crackly top? Put in extra elbow grease while whisking in the eggs! Agitating the egg whites is what ensure the shiny top.
Five: Add almost all of the chopped chocolate and fold it in until evenly dispersed.
Six: Spread the batter into a parchment-lined pan and spread evenly to meet the edges.
Seven: Sprinkle extra pieces of chopped chocolate on top, then bake and cool. (Example of an 8x8" pan).
Example using light brown sugar and a quarter sheet pan.
Hot tip! For the most aesthetically pleasing bars, chop up a bit of extra chocolate and sprinkle it top on as soon as the bars come out of the oven.
Expert Tips
Underbake the blondies for a chewy texture since they will continue to cook and set as they cool.
Cool at least 30 minutes before cutting for clean edges.
Measure the flour accurately. Use a kitchen scale or fluff or use the fluff, spoon, and level method.
Line the pan with a parchment paper sling, leaving a few inches of hangover on opposite ends of your pan, to easily remove and cut the bars.
When the bars come out of the oven, gently shake the pan around in a circle to make the chocolate puddles spread, then add flaky salt.
Recipe FAQs
What's the difference between a blondie and a brownie?
Brownies have cocoa powder and/or melted chocolate mixed into the batter so they taste primarily of chocolate. A blondie is more similar to a chocolate chip cookie with a caramel flavored dough with chocolate chips mixed in.
Should blondies be gooey?
Blondies should be gooey but not runny in the middle. The blondies are done when the edges are set and crispy and the center no longer has any jiggle.
Why are my blondies still raw in the middle?
This is because they weren't baked long enough. You may need to add a few minutes of baking time if you are using a smaller pan.
How is a blondie different than a cookie or chocolate chip cookie?
Blondies are softer, thicker, and chewier than a cookie, but harder than a cake. They are served in bar form and have a thinner batter than a cookie.
Can these blondies be made gluten free?
I have successfully made these gluten free for a friend using Bob's Red Mill 1-1 Gluten Free Flour Blend.
Storage
Store the bars tightly covered, as air is the enemy for this dessert. You can add them to a ziptop bag and remove all air, wrap them tightly in plastic wrap AND foil in the pan, or place them in a Tupperware container with a slice of bread to keep them moist. Store at room temperature for 3-4 days.
The brown butter blondies freeze remarkably well. Tightly wrap small sections in plastic wrap, foil, then place in a ziptop bag and remove all air. Store the blondies in the freezer for two months and thaw at room temperature.
More Dessert Bar Recipes You'll Love
Did you make this recipe? Share it with us! Tag @thecozyplum on Instagram & Facebook and leave a star rating ⭐️ below!
📖Recipe
Chewy Brown Butter Blondies with Chocolate Chips
These soft and chewy Browned Butter Blondies are packed with chocolate chips (or any variety and type of chocolate) and sprinkled with flaky sea salt. They're quick to make from scratch, are totally gooey and fudgy, and are packed with caramelized butterscotch flavor from the brown butter and sugars.
Equipment
Frying pan or saucepan

Quarter sheet pan with sides

or 8x8-inch pan for thicker blondies

Mixing bowls

Whisk

Fine mesh sieve (optional)
U.S. Cups vs Metric
Use the metric toggle to convert the measurements
Ingredients
¾

cup

+ 2 tablespoons unsalted butter

browned and melted (¾ cup or 170g total needed after browning)

¾

cup

granulated sugar

150g

¾

cup

light brown sugar

150g

2

large eggs

room temperature

2

teaspoons

vanilla paste or extract

1½

cups

all-purpose flour

1

teaspoon

baking powder

½

teaspoon

kosher salt

12

oz

milk and dark chocolate (6oz of each)

chips, chunks, or chopped bars

Flaky sea salt
Instructions
Preheat the oven to 350℉/177℃ and line a quarter sheet pan (or 8x8" pan for thicker blondies) with parchment paper.

Add the butter to a frying pan or saucepan over medium heat and melt, stirring frequently, until the butter turns golden in color and the milk solids have turned into brown flecks. It will smelly nutty and delicious. Transfer to a large mixing bowl, being sure to scrape out all brown bits on the bottom of the pan.

¾ cup + 2 tablespoons unsalted butter

Add the brown sugar and white sugar to the brown butter and whisk vigorously for about 1 minute.

¾ cup granulated sugar,

¾ cup light brown sugar

Add the eggs and vanilla, and whisk vigorously again for another minute.

2 large eggs,

2 teaspoons vanilla paste or extract

Sift in the flour, baking powder and salt (or whisk together in another bowl before pouring in) and use a rubber spatula to combine and fold it together until the flour disappears.

1½ cups all-purpose flour,

1 teaspoon baking powder,

½ teaspoon kosher salt

Fold in ¾ of the chocolate, then pour the mixture into the prepared baking sheet and spread it evenly to the sides and edges. Sprinkle the remaining chocolate over the top.

12 oz milk and dark chocolate (6oz of each)

Bake for 18-20 minutes (or 25-28 for 8x8" pan) or until the center area still looks slightly underdone (it will finish baking while cooling)

Remove from the oven and place on a wire cooling rack. Sprinkle liberally with flaky sea salt.

Allow the bars to cool for 30 minutes, then remove them from the pan using the parchment paper.

These are best served when they're still slightly warm. Wait until they get to this point, then cut and serve.
Notes
For thicker blondies bake the batter in an 8x8" pan for 25-28 minutes. The center may seem underdone but will continue baking as it cools. Cool for at least 30 minutes prior to slicing.
These can be made with chocolate chips, chocolate chunks, or chopped chocolate (preferred option). See the post write-up for additional variations (nuts, coconut, etc). Whatever additions are used, keep it to 12-14oz total.
If you're unsure of how to brown butter, check out my How to Brown Butter post for more details and tips.
To make the bars look extra pretty, chop up a bit of extra chocolate and sprinkle it on top on as soon as the bars come out of the oven. The residual heat will melt the chocolate. Once melted, shake the pan around in a circle to widen out the chocolate pools. Sprinkle the top generously with flaky sea salt.
Nutrition
Calories:
220
kcal
Carbohydrates:
26
g
Protein:
2
g
Fat:
12
g
Saturated Fat:
7
g
Polyunsaturated Fat:
1
g
Monounsaturated Fat:
3
g
Trans Fat:
1
g
Cholesterol:
29
mg
Sodium:
127
mg
Potassium:
126
mg
Fiber:
2
g
Sugar:
16
g
Vitamin A:
203
IU
Calcium:
31
mg
Iron:
2
mg