These crowd-pleasing Maple Bacon Brussels Sprouts are an incredibly delicious and versatile recipe that can be oven roasted or made in the air fryer to create your new favorite side dish or appetizer.
Roast these maple glazed Brussels sprouts until crispy, then toss with crumbled bacon, salty parmesan cheese, and a sweetly tangy maple glaze. If you're a bourbon fan, you can even add another subtle layer of flavor by incorporating a splash of bourbon into the glaze.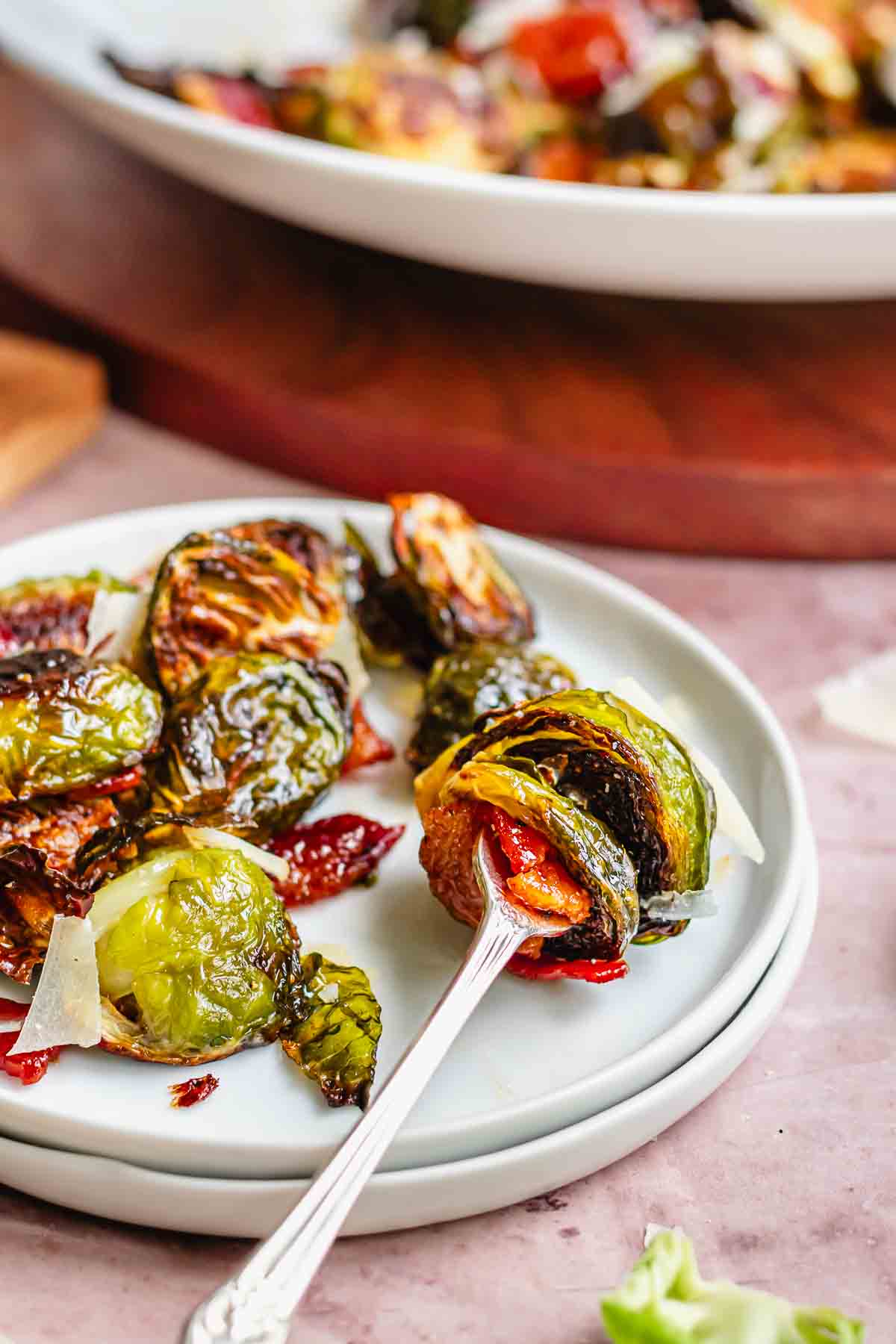 These Brussels sprouts with maple syrup are the perfect side dish to serve with salmon, chicken, or pork, or can even be served at a party with toothpicks as part of an appetizer spread. We recommend serving these alongside Spinach and Feta Pinwheels, Soft Pretzels and Beer Cheese Dip, and Baked Brie with Fig Jam.
Jump to:
Why You'll Love This Recipe
Versatile - this recipe truly is a jack-of-all-trades. Whether acting as an appetizer, complimentary side dish, or gracing the buffet table, this dish can be made for any occasion.
Layers of flavor - These Brussels sprouts have it all: sweetness from the maple syrup, tanginess from the apple cider vinegar in the glaze, a bit of smoky flavor from the roasted sprouts and crispy bacon, and saltiness from the parmesan cheese. All of these flavors balance each other perfectly, and keep each bite as exciting as the first.
Air fryer option - If you're an air fryer fan, the Brussels sprouts can be made in half the time! While the original recipe is written for an oven roasted method, simply follow the instructions for the air fryer, below.
Ingredients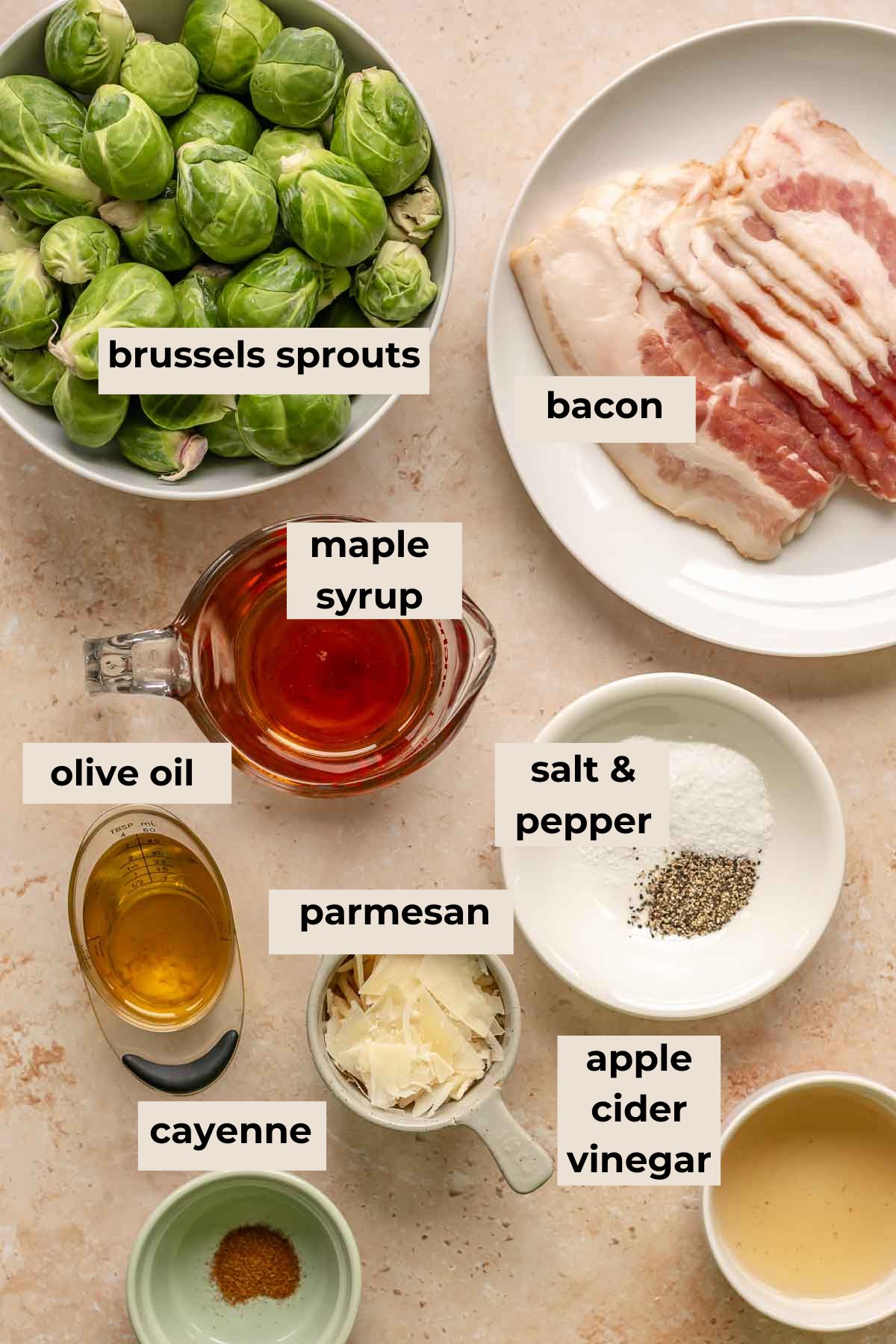 Brussels sprouts. Look for medium to large sprouts with little bruising or discoloration.
Bacon. Thick cut bacon provides more heartiness to the dish, and is better if this dish is served as an appetizer option.
Maple syrup. Look for pure maple syrup. This will get reduced to produce a thick, sticky glaze.
Cayenne pepper. This provides a touch of background heat to the dish (though not overpowering). If you'd prefer no spiciness at all, this can be omitted.
Apple cider vinegar. Vinegar helps to cut through the sweetness and adds another level of flavor.
Parmesan cheese. These salty bites pair nicely with the bacon and the sweet maple syrup.
See recipe card for full ingredients list and quantities.
Substitutions and Variations
Add pecans to the mix for a crunchy bite. Toast them ahead of time if you'd like!
Toss dried cranberries into the Brussels sprouts after glazing for extra sweetness.
Add a drizzle of balsamic glaze at the end for another sweet and tangy moment.
Use honey in place of maple syrup in the glaze. Both will achieve the sweetness, but in a uniquely flavorful way.
Add roasted sweet potatoes or carrots for some extra sweetness and veggie nutrition.
Blue cheese crumbles can be used to top this dish in place of the parmesan cheese.
Add 1 tablespoon of bourbon after cooking the glaze for extra flavor (turn off the heat before adding).
How to Prepare Brussels Sprouts for Cooking
Cut off the very tip of the hard core.
Remove any leaves that are falling off or discolored.
Cut each brussels sprout in half through the core.
One: Clean and prepare the brussels sprouts, cutting each in half and discarding discolored leaves.
Two: Add the brussels sprouts to a large sheet pan, coat with olive oil and salt and pepper and coat completely.
Hot tip! Keep space in between the Brussels sprouts, and turn them all cut side down for the first half of baking.
Three: Cut and fry the bacon until very crispy. Remove to drain and cool on paper towels.
Four: Add all ingredients for the maple glaze and cook until bubbling and reduced slightly. Allow to cool while the brussels finish baking.
Five: Toss the brussels sprouts and bacon in the maple glaze in a separate bowl.
Six: Plate the brussels sprouts on a serving platter and add parmesan flakes.
How to Cook Brussels Sprouts in the Air Fryer
Toss the prepared sprouts in olive oil and salt and pepper.
Cook at 400℉ for 15 minutes.
Shake and toss the basket 2-3 times during the baking process.
Expert Tips
If using the oven roasting method on a sheet pan, make sure to leave plenty of space around the Brussels sprouts on the pan to ensure that they get as crispy as possible. If needed, use two pans.
Place the Brussels sprouts cut side down on the pan before roasting. Flip them over halfway through the cook time.
Dress the roasted Brussels sprouts with the maple glaze right before serving to prevent them from getting soggy.
Recipe FAQs
Why won't my Brussels sprouts get crispy?
This is likely because the temperature is not high enough, or the pan is too crowded. It's important to leave space around each Brussels sprout to ensure they heat and crisp properly, otherwise they will just steam.
Do you roast Brussels sprouts flat or upside down?
Start with the Brussels sprouts cut side down on the pan, then flip each halfway through the cooking process in order to produce the most crispy results.
Do I need to blanch Brussels sprouts before roasting?
No. The Brussels sprouts should be raw, dry, and lightly coated in oil prior to roasting.
Storage
The maple glazed brussels sprouts should be enjoyed immediately after being made.
This vegetable does not store well, as it loses its crispiness, especially with the maple glaze coating.
Did you make this recipe? Share it with us! Tag @thecozyplum on Instagram & Facebook and leave a star rating ⭐️ below!
📖Recipe
Maple Bacon Brussel Sprouts
These crowd-pleasing Maple Bacon Brussels Sprouts are an incredibly delicious and versatile recipe that can be oven roasted or made in the air fryer to create your new favorite side dish or appetizer.
Equipment
cutting board

large sheet pans

Large frying pan

Saucepan
U.S. Cups vs Metric
Use the metric toggle to convert the measurements
Ingredients
1

lb

brussel sprouts

2

tablespoons

extra virgin olive oil

1

teaspoon

kosher salt

½

teaspoon

black pepper

6

slices

bacon

½

cup

maple syrup

⅛

teaspoon

cayenne pepper

1

tablespoon

apple cider vinegar

¼

cup

shaved parmesan cheese
Instructions
Preheat an oven to 425℉. If you have a convection oven, use that setting and set it to 400℉.

Prepare the brussels sprouts by cutting off the very tip of the hard core, then remove any leaves that are falling off or discolored. Cut each brussels sprout in half through the core.

Add the brussel sprouts to a very large sheet pan and drizzle the olive oil over top. Toss well to completely coat. Sprinkle over the salt and pepper and toss again. Then, flip each brussels sprout so it's cut side down.

2 tablespoons extra virgin olive oil,

1 teaspoon kosher salt,

½ teaspoon black pepper

Note: Be sure to leave room around each brussels sprout half so they can crisp up nicely. If necessary, split the brussel sprouts between two pans.

Add the pan to the top third of the oven and cook for 15 minutes. Remove the pan and toss the brussel sprouts to flip (or flip each one individually), scattering them out to leave space again. Return to the oven and continue baking for another 10-15 minutes.

While the brussel sprouts are cooking, cut the bacon into ½ inch pieces and cook in a large frying pan until very crispy. Remove to a paper towel to drain the grease.

Add the maple syrup and cayenne pepper to a small saucepan or frying pan and cook on medium heat until it begins to bubble and cook down, about 5 minutes. Stir in the apple cider vinegar, then remove from the heat to cool slightly.

½ cup maple syrup,

1 tablespoon apple cider vinegar,

⅛ teaspoon cayenne pepper

Once the brussel sprouts are very crispy and browned, remove from the oven and transfer to a large mixing bowl. Drizzle the maple syrup mixture and bacon pieces overtop and quickly toss to coat.

Transfer to a platter (this helps them spread out and remain crispy), then top with shaved parmesan cheese flakes.

¼ cup shaved parmesan cheese

Serve immediately with a spoon or toothpicks.
Notes
If the brussels sprouts are very large, they may need to be quartered rather than halved. Cooking time can vary by size and oven. Continue cooking until very crispy and browned.
Add dried cranberries and/or pecans, if desired.
This dish should be enjoyed shortly after preparing, as the brussels sprouts lose crispiness as time goes on.
Nutrition
Calories:
192
kcal
Carbohydrates:
19
g
Protein:
5
g
Fat:
11
g
Saturated Fat:
3
g
Polyunsaturated Fat:
2
g
Monounsaturated Fat:
6
g
Trans Fat:
0.02
g
Cholesterol:
13
mg
Sodium:
467
mg
Potassium:
306
mg
Fiber:
2
g
Sugar:
14
g
Vitamin A:
472
IU
Vitamin C:
48
mg
Calcium:
85
mg
Iron:
1
mg